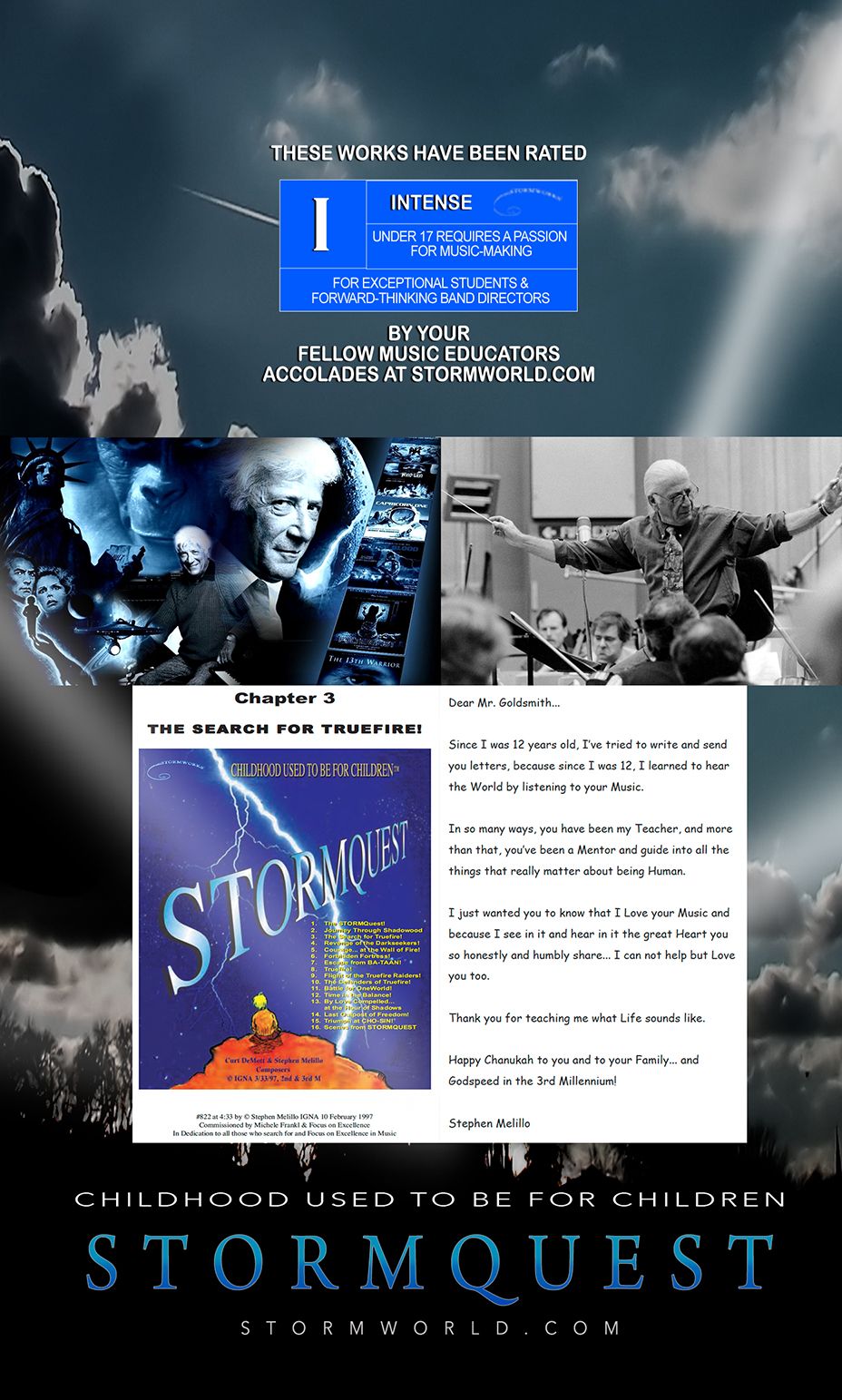 10 Feb 2020 
The Birthday of Jerry Goldsmith 
"If you have a Man riding a horse, don't score the hooves, score the mind of the man."  Jerry Goldsmith 
It is IMPOSSIBLE to properly find words to express how much I LOVE Jerry.  He's in the "Storm" Music to be sure.   
On 10 Feb 1997, I composed 'The Search for Truefire,'  Chapter 3 from STORMQuest.  Originally, I had arranged Music from Jerry Goldsmith's 'First Knight.'  When the arrangement was rejected by publishers, thus depriving kids of great Music, I decided to make a new composition aligned to 'First Knight,' sort of in the Sammy Nestico/big band writers' approach. 
There's more than one way to stop the guy who's trying to skin the cat!  Adding my own fanfare material from the 1994-composed, 'DAVID,' I wrote 'The Search for Truefire.'   
It was indeed a Message to kids.  The title simply suggests that there is a "Search" for Truth, be it in Music, rejected or otherwise, be it in anything.  I know that all of you can relate! 
Happy 93rd Birthday in Heaven, Jerry Goldsmith!  I have loved you since I was 12.  Please accept my humble scribblings. 
Enjoy & Godspeed!  S 
'The Search for Truefire.' from CDBaby on YouTube here:  https://youtu.be/IUjCU9Cwe58 
You can see my 'far-less-than-he-deserves' dedication to Jerry Goldsmith in the Score Notes, listen to the track, and investigate "The Search for Truefire," Chapter 3 from STORMQuest, a series for young bands here: 
https://stormworld.com/stormquest  (Scroll until you see Chapter 3)